MADA ENTERPRISE CO., LTD. --Made under stringent QC supervision, Confirmed to international standards.
Specializing in designing, developing, and manufacturing high-quality and innovative tire gauges (for measurement only), multi-functional tire gauges, and air chucks, Mada Enterprise Co., Ltd. markets its brand under "MADA" around the global.

Products are widely used in wheeled vehicles and equipment, including bicycle tire gauge, coming in versions adhering to American, British and French specifications, as well as automobile, automotive, trucks, buses, and planes.

General Manager Kao Yi-Yung said the company insists on offering professional, high-quality, and durable products to its customers, thus building a good reputation among global clients. MADA also regards quality control (QC) with utmost importance before delivery to customers. With high QC and good CRM, the company has gained worldwide support and currently markets its products to over 40 countries.

MADA's products feature durability and fatigue resistance, with testing accuracy range between 28-40psi 4A 0.25% and 40-170psi 3A 0.5%, specifications that the firm considers as among the best of the best in the world. For extended of its products, MADA recommends users to regularly clean the air filter under the tire gauge.

Aside from large-scale production of the standard (multi-functional tire gauges, tire gauge for measurement, and air chucks), MADA continues to put effort into innovative development.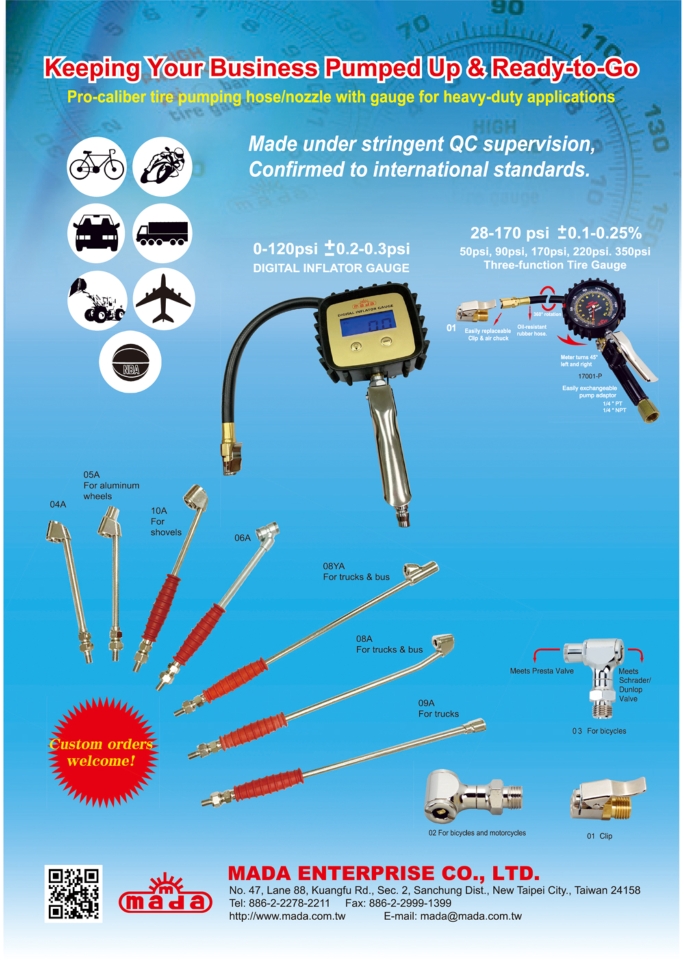 MADA Enterprise Co., Ltd.
No. 47, Lane 88, Kuangfu Rd., Sec. 2,
Sanchung Dist., New Taipei City, Taiwan 24158
Tel: 886-2-2278-2211
Fax: 886-2-2999-1399
Email: mada@mada.com.tw
Website: www.mada.com.tw